Prime Minister Jacinda Ardern has certainly made enemies in the oil & gas industry.
She recently claimed that oil companies were 'profiteering' from and 'fleecing' Kiwi consumers.
This is, of course, in response to petrol prices across New Zealand spurting past the record high price per litre.
It's the same trend that's led to social media warriors planning one-day or company-specific boycotts.
The most popular call to boycott is hosted by Julia Roche and Donicia Cameron on Facebook. Here's what they say:
'It's time for the people of NZ to take a stand against our petrol industry in NZ.

'No petrol station to be entered on [October 26-27].

'These increases are affecting all of us, for some the impact is immediate for others longer term.

'The government and the big petrol companies both have the power to do something about this.

'This event is about standing united against these unjustified increases.

'Many have suggested this is not enough, but it is a start and with over 7K interested it will make an impact. If you are able to, may you also consider refraining from entering a petrol station all of the weekend. But definitely no petrol on the event date.

'Suggestions have also been to boycott certain petrol companies, this can be done following on from this event, in the meantime consider looking around and purchasing petrol only from the lowest priced station in your vicinity if able, this will also help.

'Thank-you for supporting this event.

'"The power of people united, is stronger than the people in power"

'Let's all take a stand together!!

'Please Share.'
Check it for yourself here.
The idea is great, but the execution isn't.
A one-day boycott does nothing but give the petrol station operators a pleasant day off to go to the beach or sleep in.
The day after the boycott ends, everyone will be back at the pump. Nothing will have changed. [openx slug=inpost]
Target a certain company
Another approach — that we saw highlighted by the NZ Herald — could have real potential. Here's the post: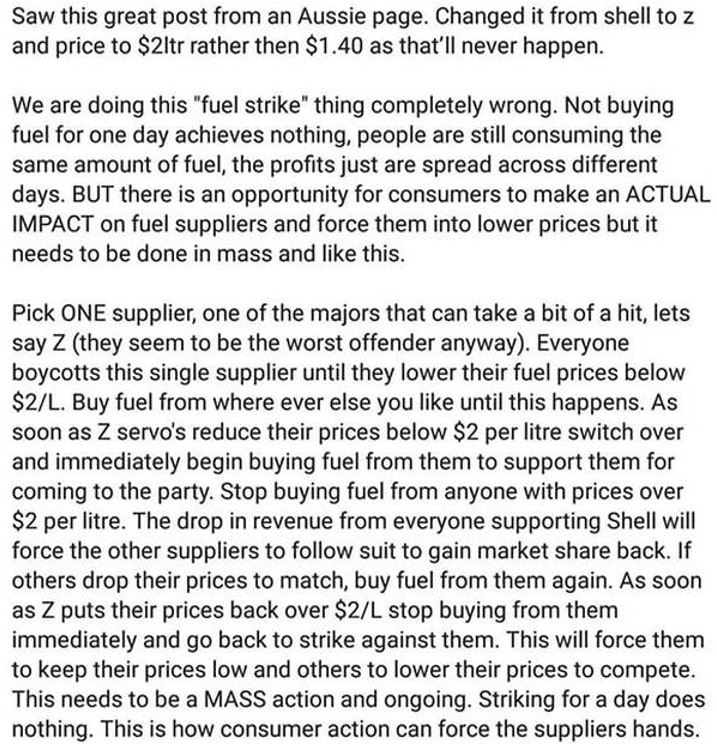 Source: Facebook
In summary, apply your organised effort in starving out a particular provider…then they'll be forced to lower prices to reel you back in.
It's an intriguing tactic — to force a downward price spiral.
But will it work?
Probably not.
Because at the same time, other petrol stations will probably raise prices. Increased demand at their pumps means price goes up. Basic economics.
It'll be a race to see who can hold their breath longer: the boycotted company or the consumer.
My guess is that the company wins.
Because at the moment, this event has about 34,000 people interested or promising to participate.
In 2016, there were just short of a million cars in Auckland. Even if we use that number, then there are still about 950,000 vehicles out there that need gas…and aren't participating in the boycott.
The 34,000 protesters will barely move the needle.
And if the non-boycotted stations do raise their prices, the boycotted company may end up getting a surge in demand since it's the lowest price around….even at $2.50 per litre.
That's why Z Energy, Gull and Mobil couldn't be bothered.
The real culprit
As we noted on Monday, we believe you're getting pinched at the pump by the state, not the fuel company.
It's the nearly $1-per-litre tax we pay that's emptying our wallets…
It's not the 45 cents that the fuel company makes…
That's right. The state makes nearly double what the petrol importers make. Here's the data straight from the MBIE: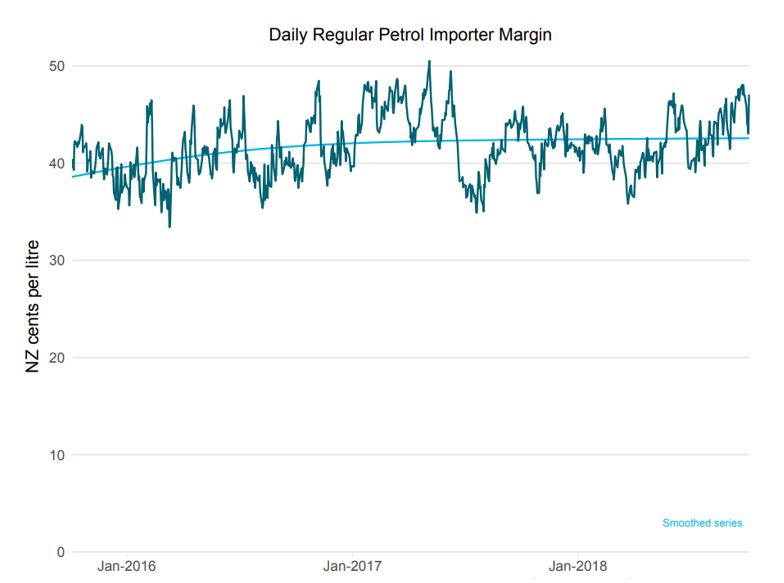 Source: MBIE
When it comes who's doing the fleecing, don't let the state pull the wool over your eyes.
If dear Jacinda actually wants petrol to be affordable again, it's easy — get your own hand out of the cookie jar.
Best,
Taylor Kee
Editor, Money Morning New Zealand