My wife and I attended a house viewing yesterday in beautiful Mission Bay.
It was a nice cottage, nestled between a couple larger homes. Just a few blocks from the beach and walking distance to Mission Bay's Promenade…it was appealing.
The inside was pleasant — the landlord had completely remodelled it to look and feel like a bach. Driftwood on the shelves. Rattan furniture. Images of warm beaches on the walls.
We weren't alone, though. A few other couples were there too, milling about the rooms, whispering about the new paint, shiny appliances, and so on.
To me, it seemed like your average house viewing.
That was, until we asked about the rent.
The property manager jumped into a spiel about how her tenants were normally students…something about a student subsidy…and how she didn't have a specific rent amount in mind. Huh?
My Spidey sense was tingling.
She went on, '[Blah, blah, blah]…so just let me know what you'd be willing to pay and I'll consider your offer.'
What? Did she seriously want me and my wife to bid against the other potential renters?
Is that ethical? Legal?
Unfortunately, as I discovered when I went home and popped open my laptop, the practice of 'rent bidding' is completely legal in New Zealand.
In fact, property managers are A-OK to ask potential tenants, 'What's the most you'd be willing to pay?'
That's exactly what was asked of this Wellington student: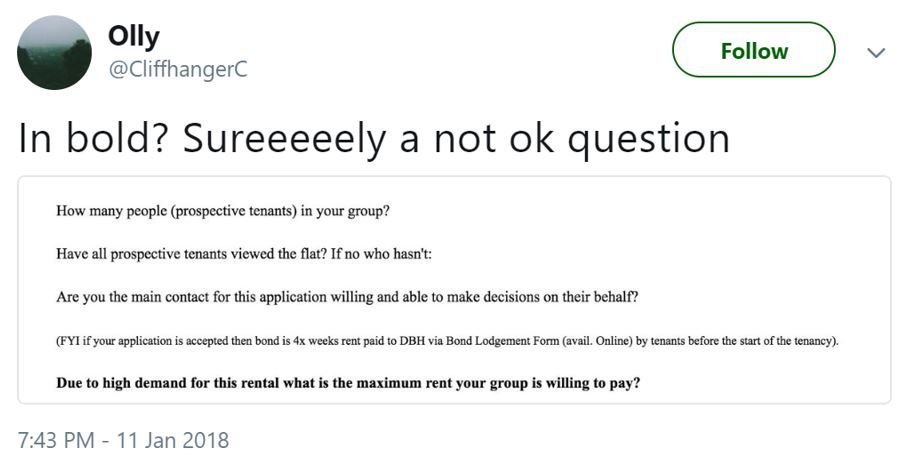 Source: Twitter/@CliffhangerC
Fortunately, Housing Minister Phil Twyford, with whom we typically disagree, is on the offensive in the battle against these sorts of practices.
Just a couple weeks ago, he launched a discussion paper in which he proposes the end of 'rent-bidding' among other questionable practices like unlimited rent increases, no-cause evictions, unlicensed boarding houses and more.
Could this mark the beginning of a new and more sustainable rental market in New Zealand? [openx slug=inpost]
Winklevoss twins launch new unique crypto
Speaking of a new and more sustainable market, do you remember Cameron and Tyler Winklevoss?
They're the identical twins who went to Harvard at the same time as Mark Zuckerberg. While there, they developed a social media platform called HarvardConnection, which was suspiciously similar to Zuckerberg's Facemash website (which later became Facebook).
They sued Zuckerberg, claiming that he had stolen the idea from them. They won and received $65 million. That was back in 2004. For reference, Zuckerberg is now worth just shy of $65 billion.
I'd say the Winklevoss twins got the raw end of the deal.
Anyways, the twins obviously know a thing or two about emerging trends…and since winning the Facebook case, they've become heavily involved in the cryptocurrency field.
Their ride has had some ups and downs.
In 2013, they tried to launch a bitcoin-based ETF called Winklevoss Bitcoin Trust. It was denied.
Also in 2013, they invested $1.5 million into BitInstant, a bitcoin payment service. But just a year later, the CEO of BitInstant was arrested and charged with money laundering. Oops.
The next year, the twins made their bitcoin index called Winkdex.
Realise, this was 2014. Bitcoin was an exploding technology. It was in the double and triple digit price range…and many of these early investors made some hefty gains.
The Winklevoss twins were no exception. In 2014, they cashed out some of their bitcoin holdings to purchase seats on Richard Branson's Virgin Galactic shuttle.
For the twins, bitcoin truly went to the moon.
Over the past few years, they've focused on Gemini, their Bitcoin exchange in New York (and a darn clever play on words for a pair of twins who have literally used bitcoin to get to space).
From Gemini's website, 'Gemini is a licensed digital asset exchange and custodian. Buy, sell, and store digital assets in a regulated, secure, and compliant manner.'
They've also recently received permission to settle exchange-traded products with a vast array of other cryptocurrencies.
Now, here at Money Morning New Zealand, we're more focused on the investments themselves rather than the middlemen. But if you're interested in cryptos and don't know where to start, we've prepared a starter's guide to investing in bitcoin from New Zealand.
Back to Gemini, the Winklevoss twins just received approval to issue a new cryptocurrency that is pegged to the US dollar.
It joins several other coins like Tether, Dai, and the Paxos Standard which track the value of the fiat currency they're linked to.
Some call these 'stable coins'.
Now, as a bit of a crypto-head myself, I had to wonder, 'I thought the whole point of cryptocurrencies was to get away from centralised, fiat currencies. What purpose does a dollar-pegged crypto have?'
Well, the CEO of Paxos, Chad Cascarilla, answered that. He said, 'The biggest thing this is doing is solving the plumbing issues in the crypto space. Our business is trust. We're not just doing this off some very light forms of regulation.'
In other words, these 'stable coins' are supposed to bridge the gap between established financial exchanges operating on fiat currency…and cryptocurrency exchanges that deal in digital currencies.
It's supposed to facilitate the relationship in a licensed, regulated and well-audited fashion.
Now, a key element of the new system is the idea that these 'stable coins' are backed by real, hard dollars. And that those dollars are held in a FDIC-insured bank.
There's been some doubt cast on the whole process. And until Gemini reveals exactly how and where the backing dollars are stored, it might not capture the public's trust.
But if it does…it could lead to a whole new era for cryptocurrencies…where digital coins are integrated with the modern financial world in a regulated, reliable manner.
And that could change the world.
Best,
Taylor Kee
Editor, Money Morning New Zealand
PS: Last night, I attended a mind-blowing workshop on blockchain, cryptocurrencies and smart contracts in Auckland. It was led by a partner at PwC and top subject matter expert in innovation. Look forward to hearing what I discovered in an upcoming issue of Money Morning New Zealand.