When the Apollo 11 mission landed on the Moon on 20th July 1969, it was a heart-stopping moment.
Neil Armstrong ventured out into the lunar surface and uttered those immortal words:
'One small step for a man. One giant leap for mankind.'
Through the wonders of satellite transmission, millions of people across the globe heard Armstrong's gravelly voice and saw the extraordinary images play out on their television sets.
It was a shared moment of triumph and awe; a real turning point in human history.
Sadly, in New Zealand, Kiwis didn't get to participate fully in this historic event. Why? Well, because the country's geographic isolation meant that a live audiovisual feed was impossible. The technology just wasn't up to scratch yet.
So Kiwis had to rely on their radios to get a blow-by-blow account of the Apollo mission as it happened.
Fortunately, the government decided that it was disgraceful for New Zealand to be left completely out in the cold.
So they dispatched a Royal New Zealand Air Force plane to Sydney to pick up a taped recording of the Moon landing.
The crew then hustled it back to Wellington.
Unfortunately, that journey was the easy part. Because even when the precious cargo arrived safely, it wasn't a simple matter of plug and play. You see, at time, the regional transmitters in New Zealand couldn't broadcast simultaneously across both islands.
So some crazy technical voodoo was needed to make things work. Engineers had to rig up a broadcasting van — yes, you read that right: a van — to bounce the signal across Cook Strait. It was then picked by a dish on the other side. From there, it was finally beamed through the South Island network. Only then could the historic footage be seen by citizens across Aotearoa.
It's incredibly quaint when you think of it now. Kiwi number-8 ingenuity being used to overcome one heck of a technical challenge. But this event pretty much summed up the spirit of the age — you had to be patient, and you had to be willing to wait.
And wait…
And wait…
After all, what other choice did you have? As a Kiwi living at the tail end of the 1960s, you only had one television channel playing delayed broadcasts in grainy black-and-white, and you were beholden to it.
There were simply no other options.
You were bound by the so-called tyranny of distance — the fact that New Zealand's isolation meant that it couldn't possibly play catch-up with the rest of the world.
Or…could it?
The genesis of Sky TV
Five decades on, it's safe to say that New Zealand is finally shaking off the chains of old restrictions.
Kiwi media consumers are savvy and astute now, and they plainly refuse to accept what's been handed down to them by circumstance. They have something their forebears never had: which is the luxury of choice.
Nowhere is this clearer than in the developments we've seen recently with SKY Network Television Ltd [NZE:SKT]. [openx slug=inpost]
Founded in 1987, Sky first gained traction as a pay-television satellite provider geared towards the sports-mad market. It secured exclusive broadcasting rights to everything from rugby to cricket. Naturally enough, Kiwi subscribers flocked to Sky in droves.
Bolstered by this initial success, it soon expanded into specialised channels offering movies, news and documentaries. This was how Kiwis were introduced to the delights of HBO, CNN and Discovery.
Without breaking too much of a sweat, Sky gained a monopoly in New Zealand pay television. Or perhaps monopoly is too gentle a word for me to use. Maybe stranglehold would be a bit more accurate.
As a result, Sky came to be regarded as one of the mainstays of the New Zealand Stock Exchange. A blue-chip stock that investors seemingly felt was both reliable and predictable. And for the longest time, it seemed like nothing could knock Sky from its omnipresent perch.
That is, until 2017 rolled around. That's when news broke that Sky TV had lost over 33,000 subscribers for that year. That meant a 21% dive in net profits. This was gasp-inducing. Stomach-churning. Like the apocalypse itself had arrived.
In retrospect, the share price for Sky last peaked in 2014 at $6.87. It's now fallen to the level of $2.20 that we see at the time of writing. That's a 68% drop. And the bloodbath could very well continue.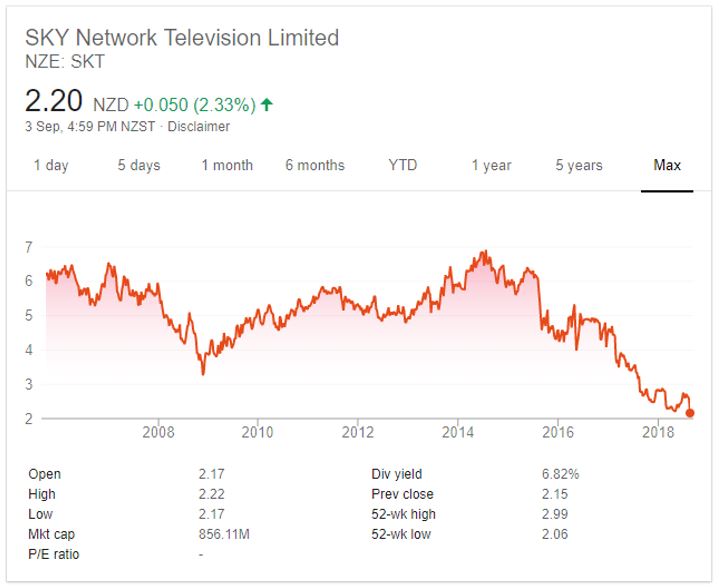 Source: Google
So…what happened here? How did Sky so precipitously fall from grace?
A brave new world
A key development in recent years has been our diversifying media landscape.
You still have our free-to-air channels by TVNZ and Mediaworks, of course, but you also have new streaming platforms like Neon, Lightbox, as well as Netflix and Amazon Prime.
No doubt, high-quality streaming has become affordable thanks to the ultra-fast broadband rollout that was initiated by the previous National government.
This has offered a tasty menu of options for Kiwis consumers to cherry-pick from.
A revolution, if you will.
In light of this, Sky TV's trademark decoders and satellite dishes seem almost, well, clunky.
And that's why the exodus of disillusioned subscribers has started to gain speed.
In an attempt to stop this terrifying bleed-out, Sky TV has partnered with Vodafone to launch a new hasty offering called Vodafone TV. Their plan is simple — when you sign up, you get fibre broadband, as well as an entry-level Sky package. You can upgrade from there, if you so choose.
Unfortunately, this just seems like a feeble attempt to slap a Band-Aid on a septic wound instead of going for a radical course of surgery and antibiotics. Which, if you ask us, is what Sky badly needs.
The medium is the message
Marshall McLuhan, the brilliant Canadian intellectual, coined the phrase, 'The medium is the message.' He was talking about the symbiotic relationship between the technology used to transmit a message, as well as the message itself. It's impossible to separate the two.
This is a philosophy that Sky has been slow to grasp. Its business model is built on piggybacking off other people's content. But that's simply not working anymore.
We now live in an age where Kiwis hunger for bold original content like Game of Thrones or Orange is the New Black. That's what they now flock to. That's what they pay money for.
And, tentatively, Sky seems to be acknowledging that. That's why they have produced an exclusive Joseph Parker documentary called 'Metamorphosis'. It's a fairy-tale boxing story with a charming protagonist. What's not to love?
Still, one wonders whether this timid foray into original content is too little, too late. As it stands, Sky's traditional business model is fractured. Perhaps even irreparably broken.
However, not all is lost just yet. At last count, Sky still has over 700,000 subscribers. That's a valuable asset base that still provides leverage; ammunition to defend its crown from encroaching contenders.
But playing defence only goes so far.
What's needed right now is offence.
Sky shareholders and loyalists must surely be hoping and praying that the company has enough fuel in its tank to pull off a game-changing move. It's improbable, but not impossible.
To be clear: there's been a seismic shift in the New Zealand broadcasting terrain. There's no going back to the way things were before. And Sky needs to adapt to the atmospherics of the business environment accordingly.
Best,
John Ling
Contributor, Money Morning New Zealand