A little over a month ago, we first discussed the topic of marijuana in New Zealand.
Government statements and public support lead us to believe that the legalisation of cannabis in New Zealand is nigh…and whether or not you support the product, you could still potentially make HUGE PROFITS through investments.
We've seen it happen in the US and Canada. When legalisation sweeps a nation, early adopters tapping into the initial surge may find themselves walking away with massive returns.
Here are some of the year-over-year gains for several big pot winners:
Canopy Growth Corp [NASDAQ:CGC] +54%

Source: Yahoo Finance
Aurora Cannabis Inc [OTCMKTS:ACBFF] +258%

Source: Yahoo Finance
MedReleaf RG Corp [OTCMKTS:MEDFF] +199%

Source: Yahoo Finance
As you can see, investors who tapped into these stocks could have locked in BIG gains…but it's important to look ahead and get in early.
That's why we're so excited about New Zealand's budding market.
The market is just now sprouting…
And as we speak, a few Kiwi firms are putting the pieces in place for a full-throttle launch if — and when — marijuana is legalised. [openx slug=inpost]
NZ's first commercial medicinal licence awarded
One such firm is Hikurangi Cannabis Company.
Based in Ruatoria in rural Gisborne, the small company previously produced hemp…but earlier this year applied for a medicinal marijuana licence and was approved.
To be clear, this licence is for research purposes only. It is the second of its nature, with the first going to a university.
Even though it only allows Hikurangi to 'research' the use of medicinal marijuana, it's a critical step forward towards full-on production.
And it signals an important change of tune by the NZ Ministry of Health.
The company intends on building an ultramodern facility in the next few months. According to the High Times:
'After winning a license to cultivate medical cannabis exclusively for research, Hikurangi began construction on a state-of-the-art greenhouse facility. The facility will sport high-tech grow equipment and testing labs in its 108,000 square-foot footprint. The construction and staffing could create as many as 120 jobs.'
How can a tiny company in the hinterlands afford such a facility?
Crowdfunding.
In an incredible show of local support, individuals pledged nearly US$2 million towards Hikurangi's new development.
They raised the capital through PledgeMe, a New Zealand-specific crowdfunding platform.
And to further show how much support this endeavour received, the website crashed just moments before the campaign was to open to the public. Too many people were logging in to pledge their support.
According to Hikurangi's investment arm, Waiapu Investments, about US$1.8 million came from 1,500 local households on the eastern coast.
The new cultivation centre will house hundreds of plants and will be manned by scientists like pharmacists and medical researchers.
They plan on two initial products: an oral syringe and a topical cream. Both will incorporate chemical compounds derived from the cannabis plant.
Hikurangi's co-founder, Manu Caddie, revealed that clinical trials are already around the corner.
Why Hikurangi is poised to explode
From an economics perspective, Hikurangi has a lot going for it.
First, local support. I'm not one to emphasise 'buying local' or supporting 'locally-owned', but support from the local community can provide certain benefits. It can alleviate the threat of a community backlash down the road.
Fights with the local council can cost time and money — both of which could set Hikurangi back against its competition. Fortunately, it seems that the Ruatoria community is behind the idea.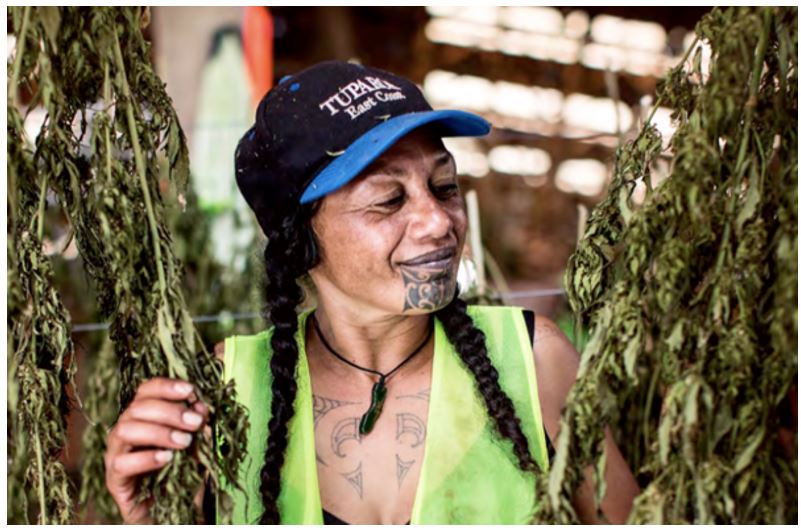 Source: PledgeMe
And it makes sense. Big business developments like this only come once in a blue moon in some of these rural communities. It promises new jobs and local economic growth.
I, for one, am already planning my trip down to visit their facility once it's ready.
Secondly, Hikurangi is moving on this trend very early on. Acquiring one of the first medical licences in the country is a competitive advantage that can never be taken away.
Plus, it allows the company to start breaking ground on a facility that could later be used for full-scale production. At the same time, Hikurangi's competition has to sit and wait.
And lastly, I think Hikurangi's path towards production is a great idea. They've moved from hemp production, to research, to medical production and eventually, to recreation production (hopefully).
By building a reputation as a medicinal research firm, they could be better received at a nationwide-level.
Many first-time users over the age of 18 value quality and branding. They want to know that what they're buying is high-quality medical-grade product. They're going to be less comfortable buying mystery grass from the Rastafarian down the street.
Image is critical when people are deciding what to think of this new industry; I believe Hikurangi is going about building an image the right way.
At this point, you may be wondering — how do you invest in this opportunity?
Well, the crowdfunding campaign on PledgeMe is now closed to the public.
But you can bet that the company will capitalise on the overwhelming support by opening up for more investment in the future.
Best,
Taylor Kee
Editor, Money Morning New Zealand
PS: We are not affiliated with Hikurangi Cannabis Company in any way, nor do we receive any sort of commissions from them. This opportunity is 100% for you, dear reader.