Poor Trump can't catch a break, eh?
After his blimp-themed visit to London ignited like the Hindenburg, Trump met for a tête-à-tête with Putin in Helsinki.
Among other transgressions, he apparently took Putin's side in the election interference scandal, saying:
'I have great confidence in my intelligence people, but I will tell you that President Putin was extremely strong and powerful in his denial today.'
Strong and powerful. You better believe the eager beavers in the news media jumped on that.
'Nothing short of treasonous,' they proclaimed. 'Trump sides with Putin over US intelligence!'
'Trump's surrender to Putin greeted with outrage…'
I particularly liked this comic by Kiwi cartoonist Rod Emmerson.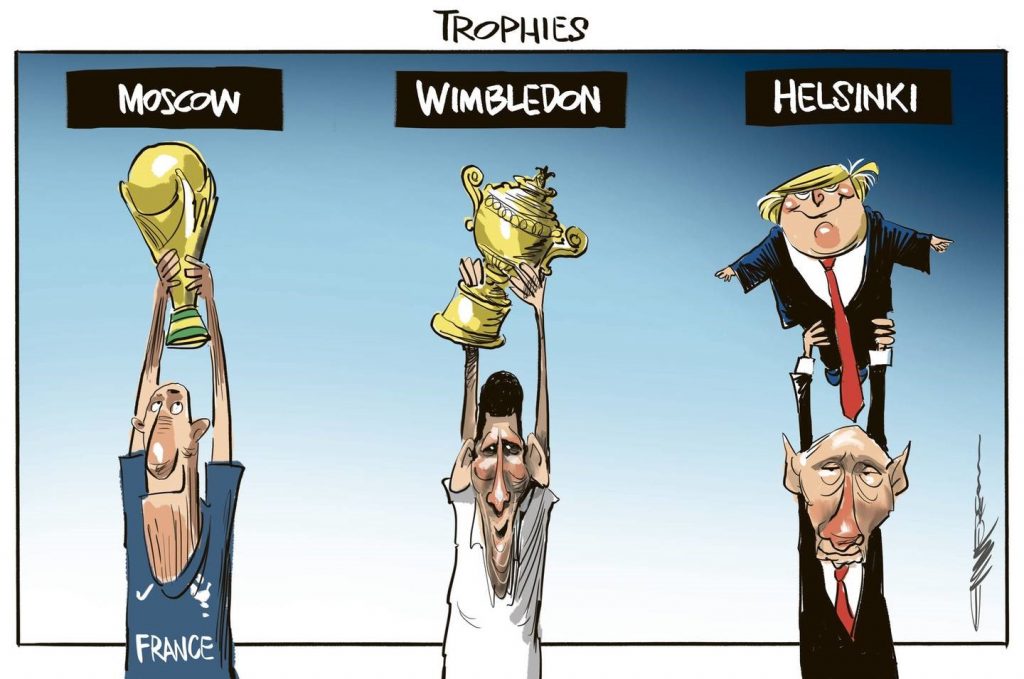 Source: Rod Emmerson
What does it all mean? Has Trump actually committed treason? Will he get impeached?
Probably not…but we'll see.
The Brits want to make a deal
In other (more important) news, the British Government has authorised the first stages of free-trade negotiations as an EU divorcee. The first three countries that they want to negotiate with are the United States, Australia and New Zealand.
That's a great sign for Kiwi businesses. At the moment, our exports are heavily affected by EU tariff rates, particularly agricultural exports like lamb, chilled beef and dairy. Exporters have to pay a hefty premium to get their products through to the EU.
That's in line with the globally growing trend of protectionism…and it's dangerous for a trade-dependent country like New Zealand.
It's easy to see where the EU is coming from. They want to give their members an edge, especially within Europe.
They want Italian Parmesan Reggiano to be a European's first pick in the cheese aisle. If that means making the imported parmesan more expensive, then so be it. Same thing with champagne or butter or mutton.
The problem with this sort of strategy is that it tampers with the self-balancing mechanisms of free trade. It results in European consumers not necessarily getting the best products nor the best prices. The EU has decided that they should buy EU products…and the consumers don't get a say.
Personally, I don't like the idea of the government forcing me to buy certain products by making other products more expensive. It feels manipulative and unfair.
If I want a Sauvignon Blanc from Napa Valley instead of Marlborough, that should be my choice. It should drive Marlborough distributers to be more competitive in terms of price and quality.
That creates a cycle in which the burden of being the best choice falls on the producers. In the end, it benefits you, the consumer.
But if the government steps in and makes all Napa Valley wines $50 more expensive, that could lead me to buying the Marlborough wine instead, even if I don't like it as much.
If you're a Marlborough wine-producer, you might not mind this…until you try to compete with a winery from Bordeaux for European customers.
The point is that New Zealand's exports are currently vulnerable to the EU's protectionist policies. That's why a free-trade agreement with Britain is so important. [openx slug=inpost]
A new deal and new opportunity
As Old Blighty leaves the nest, it's free to renegotiate with partners like New Zealand…and the numbers aren't insignificant.
Two-way trade with Britain is worth $2.9 billion. That includes $1.6 billion worth of Kiwi exports and $1.3 billion in imports.
Kiwi exporters could see millions in tariffs dropped. As the cheaper costs reach consumers, you'll likely see a spike in NZ product sales.
Additionally, a free-trade agreement between Britain and New Zealand might create an opportunity for Kiwi producers to pick up the slack that EU producers will leave.
How? At the moment, Britain gets a lot of its imports from the EU. It's cheaper because of the lack of tariffs.
When Britain cuts ties, it will inevitably make a trade deal with the EU that won't be as strong as the deal it's getting as a member. EU products will become more expensive to import. And in the usual tit-for-tat, Britain might make British exports more expensive for EU members.
Overall, the trade relationship will diminish…and it could create an opening for a historically reliable partner like New Zealand to step in.
That applies to both Great Britain and the European Union.
This New Zealand producer could profit the most…
This could mark the turning of the tide for major NZ milk producer Fonterra [NZX:FCG]. The massive dairy conglomerate is the largest business in New Zealand, but isn't much loved here at home. Scandals, scares and poor leadership have significantly hurt the co-op's reputation and revenue in recent years.
If Fonterra is able to overcome the current 'crisis of confidence', it may be in a uniquely advantageous position for a new deal with Britain. And this could benefit the 10,500 New Zealand farmers that own it.
The co-op's advantage comes from its immense production capabilities, as well as its pre-existing export infrastructure — 95% of its NZ production is exported. If British or European distributors want to ramp up their imports, Fonterra will be one of the first producers to get the call.
Keep an eye out for updates on this British deal. If it goes through, you may be able to pick up some quick profits off Fonterra's shares.
Best,
Taylor Kee
Editor, Money Morning New Zealand