Uber is surely one of the most successful start-ups of their era.
Launching as 'Uber' in 2010, they've quickly spread to every corner of the earth. Take a look at this 2016 graph of ride hailing companies around the world.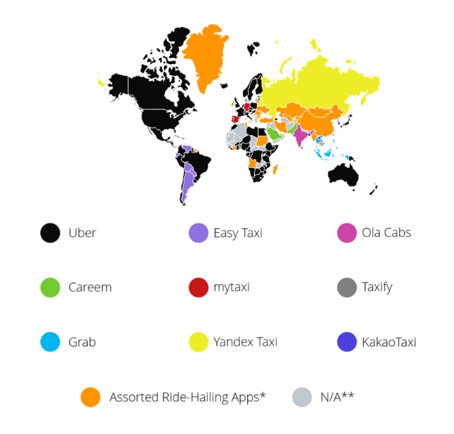 Source: Similar Web
[Click to open new window]
There's a lot of black in that picture.
In less than eight years, Uber has built a billion-dollar empire. They've disrupted more than just taxis…but there are places where even the mighty Uber cannot compete.
Southeast Asia was one. This year, Uber sold operations in eight Southeast Asian countries, including Uber Eats to rival Grab. China was another. Uber tapped out of the world's second largest economy and sold to Didi Chuxing.
Uber's China business was losing a billion a year. They also spent about US$2 billion trying to battle DiDi. While it was a hard blow to pull out of China, Uber has the West as their consolation prize. They're still the dominant ride hailing business throughout the developed world.
Could that soon change too?
DiDi is coming down under
Being first is sometimes not enough. Before Uber, only a year before, was Taxi Magic. It's thought of as the first ride hailing app to launch on the App Store. But where is it today?
Taxi Magic is no longer around. They've changed their name to Curb, a small operation in the US. Even Taxi Magic's founder has moved onto bigger things. He's running a used car marketplace called Shift.
So if Uber could throttle Taxi Magic, why couldn't competitors throttle Uber?
Beating Taxi Magic early on was obviously far easier than trying to beat Uber now. The app hadn't really caught on. There wasn't enough time for the app to build up a loyal following of passengers and drivers. Far more important however, Uber created a service far easier and more enjoyable to use.
And that's exactly how DiDi plans to take Australia from Uber. The Australian Financial Review picks up the story:
'Uber's biggest competitor, Chinese ridesharing player Didi Chuxing, has picked Australia as its first Western market in its international expansion, in a move that will further dismantle the dominance of the US giant.

'The business, which will launch its DiDi Express service in Melbourne on June 25, was valued last year at more than $US50 billion and it has raised around $US20 billion to date.

'…DiDi has been running a beta trial of its service in Geelong.

'Since launching locally, Taxify has quickly won support from riders and drivers thanks to their lower fees but higher driver commissions, with Melbourne the most successful launch city yet for the company.

'Like Taxify and Ola, DiDi will offer aggressive pricing discounts when it first launches.'
[openx slug=inpost]
DiDi's head of Australia and New Zealand added:
'People in Australia like new technology products and like trying new things and … in the past week we've found the Australian government to be visionary and willing to embrace the latest cutting-edge technology.

'We take a pragmatic approach to expansion and internally we have a matrix that we leverage to deep dive in each potential market to identity the right markets to enter step by step.

'In Australia we're making a long-term commitment to the market and hiring local talent to build a team that can leverage local know-how to customise our tech solutions.'
Price will play a large part in the wrestle over Australia. You'd assume if drivers can make more on DiDi and passengers can get cheaper trips too, it'll encourage the jump from Uber.
The point of bringing this up is not to help you decide which ride hailing app to download. It's to show you that great businesses can come from anywhere. It used to be that a large majority of innovation and prosperity came out of the West.
Now, it can come from anywhere. Companies in China, India and Southeast Asia don't have to start from zero. Thanks to trade and the dissemination of information; they can take what has worked and improve upon it.
It's why China's mobile payments market is so much larger than the US'. They didn't have the credit infrastructure to roll out credit cards, so they instead quickly developed the largest mobile payments industry in the world.

Source: Visual Capitalist
[Click to open new window]
Another example is Indian. In 1990 almost no one had a mobile phone. But instead of building land line infrastructure, Indians decided to jump straight to mobile. By 2016 there were more than a billion mobile subscribers.
The best part about all this is…you can make a killing in these markets.
Skewing the odds in your favour
I've never really liked the word developing. It's too politically correct. A much better name might be emerging. Markets in China, India and South Korea really are emerging before our eyes. While a traditional broker might not offer access to such markets. A simply Google search should point you in the right direction.
I have showed you how the top 50 Indian stocks easily beat the top 50 Aussie stocks. In fact, the returns in India were more than triple that of here on the ASX. I gave two reasons as to why.
First was information.
In many emerging markets, key information is not always spread amongst the public. This information gap gives those with information a huge advantage.
Along with this first point, a lot of investors might not look or study information that's available to them.
The second was the maturity of investors. For example, we all know buying good stocks for cheap is a winning strategy. But in places like China, India and South Korea, some investors buy and sell stocks for completely different reasons.
That's why I decided to dive into South Korea's market last week. And without much trouble I was about to find three stocks, which might be trading for far less than they're worth. I'll name all three here, but please don't take them as recommendations.
Organic Tea Cosmetic Holdings Co Ltd [KOSDAQ:900300]
Jastech Ltd [KOSDAQ:090470]
Hyundai Telecommunication Co Ltd [KOSDAQ:039010]
All three generate sales, growing earnings and a ton of free cash flow with little to no debt. All three also trade at price-to-earnings (PE) ratios of five or lower. Jastech, for example trades on a PE of two.
Of course this doesn't mean any stock with a low PE is cheap. More often than not low PE ratios are deserving. But Jastech is growing earnings, with more customers lining up. There is no guarantee you'll make money on all of the three stocks above.
But the odds are skewed heavily in your favour. And these are just a few of the dozen opportunities abroad. It's why I suggest you keep an open mind when it comes to international investments.
Who knows, you might come across the next Google, Amazon or Apple…just on a different continent.
Your friend,
Harje Ronngard