'The American dollar is worthless.'
'The American economy is going to collapse any day now.'
'The American century is over.'
Uh-huh. Okay. Well, barely a day goes by when I don't hear about the impending doom of the Land of the Free and the Home of the Brave:
For many conservatives, their pessimism seemed to hit overdrive when Barack Obama and his so-called brand of socialism arrived in the White House.
Meanwhile, for many liberals, their pessimism seemed to get feverish when Donald Trump and his so-called brand of fascism arrived in the White House.
Unfortunately, I find that when emotions come into play, it can be very hard to have a rational discussion. About anything. At all.
Still, I'm determined to try. And here's what I've noticed. Regardless of whether the prophets of doom belong to the Left or the Right, one prickly issue always seems to come up. It goes like this:
America's national debt currently stands at around $31 trillion.
America's GDP currently stands at around $25 trillion.
That's a shortfall of around $6 trillion.
Therefore — gasp — America is bankrupt.
This is your cue to panic.
(Screaming and rioting breaks out)
Yeah, well, pretty dramatic. Except for one thing. All the above is complete hogwash:
Please note that America is not bankrupt. Far from it.
America actually has over $145 trillion in total wealth.
This is national net worth — which *excludes* any debt liabilities.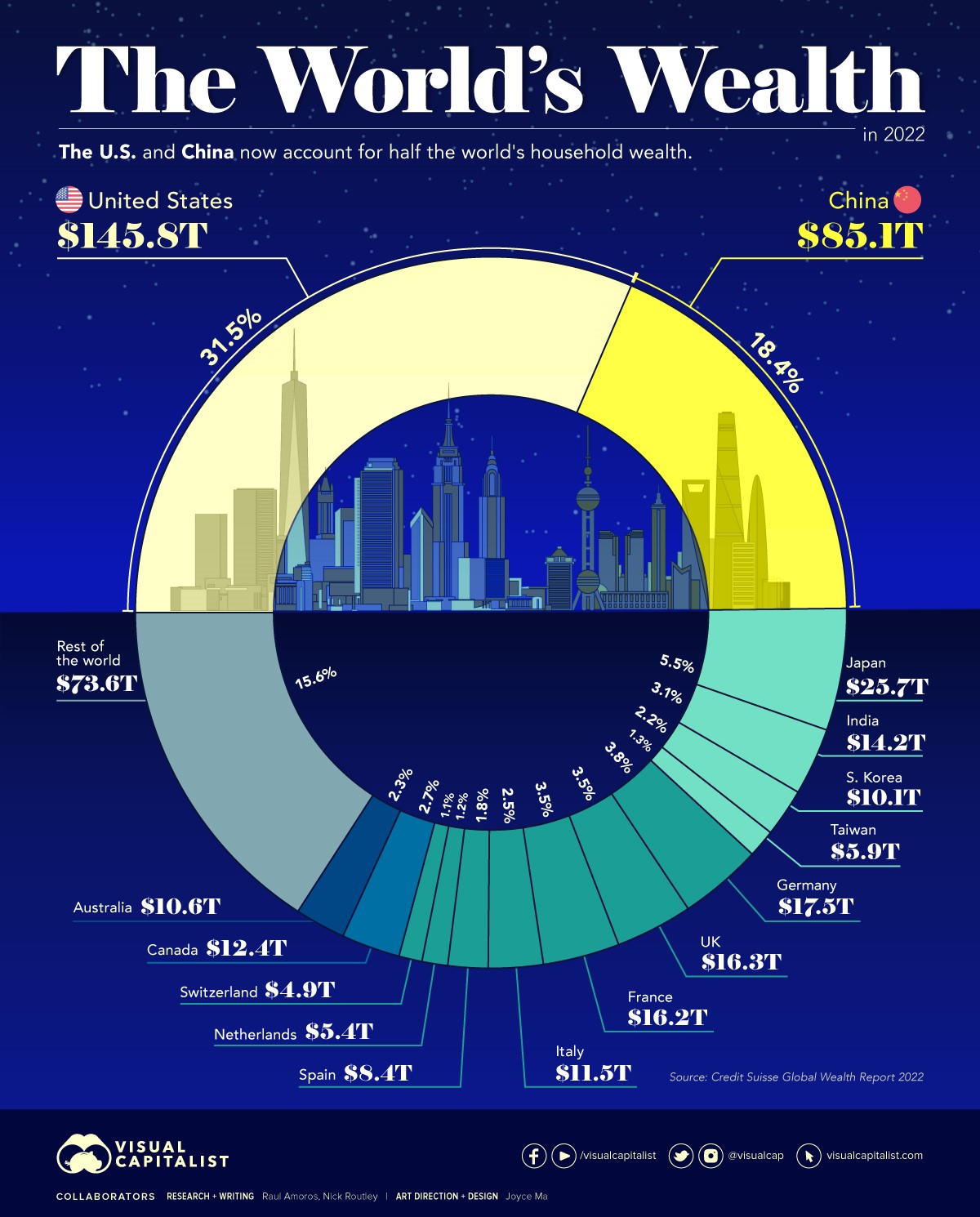 Source: Visual Capitalist
Oh, I can imagine you blinking in confusion now. 'What? How can it be? Why wasn't I told about this?'
Well, mate, do I have news for you. The mainstream media loves crisis and conflict. I mean, they really, really love it.
Even when there is no drama, they will seek to create one. Just so they can grab your eyeballs. Make some ad revenue off you.
A negative headline will get 60% more clicks. And astonishingly enough, each additional scary word will increase the click-through rate by 2.3%.
Uh-huh. I'm afraid you've been misinformed. You've been misinformed for a long, long time. So, from this point on, here's what you need to keep in mind:
GDP is short for 'gross domestic product'. It's the total monetary value of all the goods and services produced within America in one year.
GDP's focus is very narrow. It doesn't take into account things like human resources, natural resources, and technological advancements.
In other words, GDP does not take into account the total national wealth that America has.
Enlightening, isn't it?
Of course, when the media places national debt alongside GDP, that figure will look really big and scary. But guess what? It's also extremely misleading.
Sure, it makes for a catchy headline, but that doesn't necessarily make it accurate.
In fact, once you understand the theatrical nature of both the left-wing and right-wing media — you will start to see issues like the debt ceiling in an entirely new light.
It's not quite the Armageddon — or the End of Days — that it's been made out to be.
Never bet against America
Source: Wallpaper Flare
Legendary investor Warren Buffett continues to have faith in America. He explains why:
'In the 20th century, the United States endured two world wars and other traumatic and expensive military conflicts; the Depression; a dozen or so recessions and financial panics; oil shocks; a flu epidemic; and the resignation of a disgraced president. Yet the Dow rose from 66 to 11,497.'
What was true in the 20th century remains true in the 21st. The nation's competitive advantage is impossible to deny:
America has strong business institutions. Its system provides a stable and predictable environment to operate in.
America has a highly skilled workforce. It has a large and well-educated population, which is a key factor in attracting and retaining businesses.
America has a leading technology sector. It is home to many of the world's top companies, making it a hub for cutting-edge innovation.
America has access to capital. It has a deep and liquid market, which provides businesses with access to the funding they need to grow and succeed.
America has a strategic location. It sits between Europe and Asia, which makes it an attractive place for businesses looking to access both continents.
Of course, this is not to say that America is perfect. It's not all sunshine and rainbows. There are real problems that must be solved:
Race. Religion. Social class. Social values. These are hot-button issues. Indeed, they are being fought over, even as we speak.
However, don't let the news headlines mislead you. The political brinkmanship may seem loud and rowdy, but that's only because the issues are being debated openly. Americans love a fiery discourse. And the spirit of competition is a good thing. Because this is where the best ideas emerge. For entrepreneurship. For innovation. For progress.
Make no mistake about it: America as a whole is greater than the sum of its parts. Its traditional motto still holds true. E pluribus unum. Out of many, one. This is why two-thirds of the companies on Silicon Valley today were founded by first or second-generation immigrants.
The American Dream remains alive. And American entrepreneurs are the world's best problem-solvers — even if the path forward may not always look like a straight line. Indeed, as the American Constitution declares, the soul of the nation itself is on an eternal journey 'to form a more perfect Union.'
Finally, let me put it to you plainly: I have not met a single Chinese or Russian person who would willingly choose to hold the bulk of their assets in the yuan and the ruble.
In fact, when given a choice, they want to diversify into American assets and hold the US dollar. No ifs. No buts.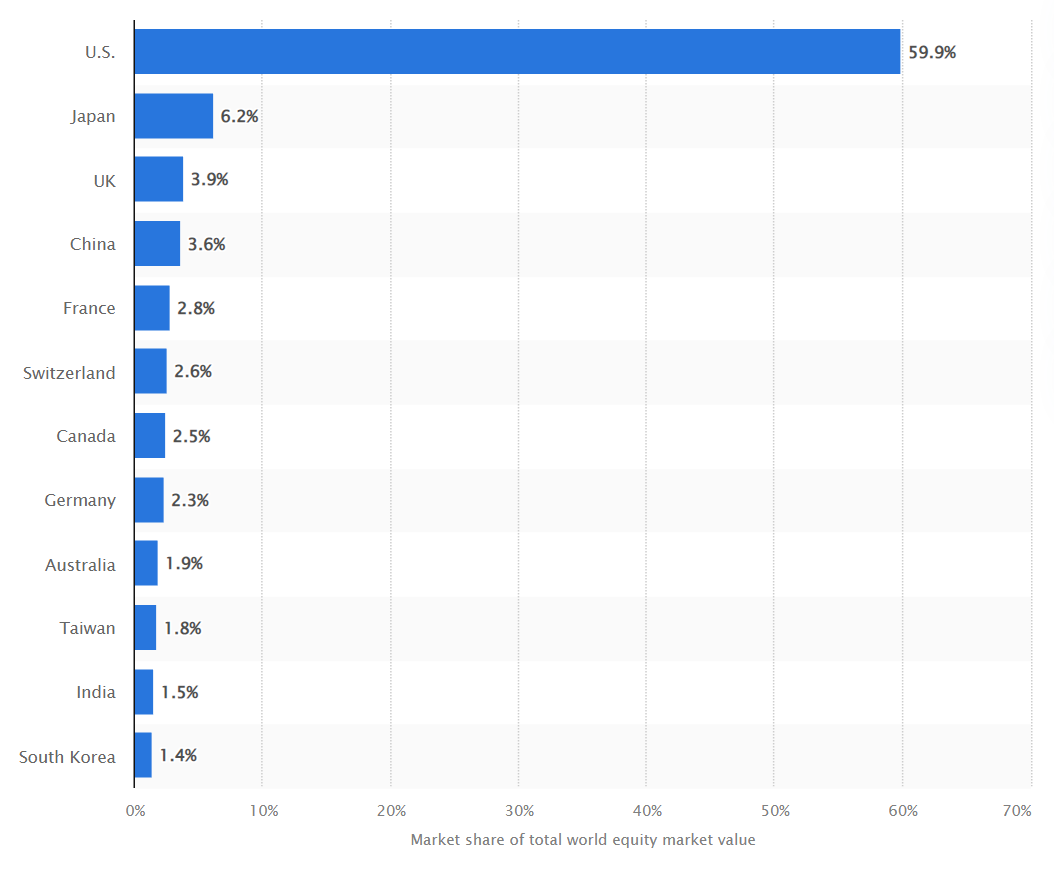 Source: Statista
Look at the big picture. The numbers don't lie:
America controls almost 60% of the global stock market.
For comparison, China only controls under 4% of the global stock market.
What about Russia? Well, it's such a non-entity, it doesn't even appear on the list.
So, are you feeling optimistic about America? Or…are you feeling pessimistic?
Certainly, there are many political opinions out there. But most of them are warped by a negativity bias about America that's entirely unfounded.
In the apocryphal words of Mark Twain: 'The reports of my death are greatly exaggerated.'
So let's put emotion aside. My rational conclusion is this: America is a dynamic nation. Sometimes messy. Sometimes baffling. Sometimes frustrating. But always, always courageous, with an untameable spirit. Which is why America remains ideally placed to do what it does best — act as the global nerve centre of commerce and innovation.
Madeleine Albright once called America 'the indispensable nation'. And this is no idle boast. Ask yourself honestly: what other nation could have pioneered the development of an astonishing AI like ChatGPT? Well, the answer is clear: this could only happen in America.
For all its faults, for all its frailties, America still stands taller and sees further into the future than other countries. That won't change just yet.
It's time to have your say
Your prosperity is our focus — which is why we are always working hard to uncover new opportunities beyond the radar for you.
We're eager for your feedback:
If you have enjoyed this article, please consider leaving us a review.
Let us know what you liked. Let us know what inspired you. Let us know if it's made you a better investor.
Regards,
John Ling
Analyst, Wealth Morning
(This article is general in nature and should not be construed as any financial or investment advice..)