I'm driving down the Autostrade enroute to Rome. There's another dreaded toll booth. This part of the motorway system in Italy is owned by Atlantia [BIT:ATL]. We've been driving several hours, so I'm wondering how much I'll be contributing to the company's €7 billion annual revenue this time.
As a foreigner without a local debit card, I pull into the cashier bay, manned by a real human. The shocking amount I owe pops up on the screen. I'm fumbling with the notes and euro coins. Not used to them.
There's an older gentleman sitting above me in the booth. I can see him getting impatient. I try to be friendly, greeting him with the little Italian I have. I ask for some directions while my wife helps me get the money together.
He waves his hands dramatically — reflecting the complexity of the roading network. I hand him some notes and am about to give him a handful of coins. He waves impatiently as though we've just delayed him from seeing Italy win the World Cup. The barrier is lifted, and paying less than half the bill, he ushers us quickly onward.
You must love Italy. The British follow the inane rules and charges that strangle Europe but want to escape — if they can. The Italians simply use their discretion.
The next concern is petrol. There are not a lot of filling stations in Italy, and many are automated. On a long road trip, in a country you don't know well, the fuel gauge looms large.
The EV revolution
As both an investor and lover of cars, the battery-powered vehicle revolution is one I've never come fully around to. One reason is that for any decent road trip, like my Italian job, it's hard to see an EV lasting the distance.
Some friends recently tried a trip down the North Island in their EV. Arriving at the one vital EV station midway on their journey, they found the plug was already taken to charge another car. They were stranded, not knowing when the owner would return. There's only so many cups of coffee you can have…
Tesla [NASDAQ:TSLA] was a 'hot' stock back in 2013, when the share price rose from around $36 to $250 in just over a year. For the past few years, despite having the best-selling EV in the marketplace (Tesla Model 3), the price has fluctuated within a band of $250 to $350. It currently sits at ~$267. The stock just crashed nearly 10% after a 31% fall in deliveries.
Unless you enjoyed the early growth story, it's not been an especially good investment in an otherwise bullish market these past few years. There's been no dividend either. You could have done better holding General Motors [NSYE:GM] which paid a 4% per annum dividend for your troubles.
I wonder who buys a Tesla? I guess you start off wanting a Maserati. And then you take the moral high ground, Bible-bash your neighbours about recycling, look down on anybody who still eats meat — and end up with a Tesla.
If you had met my friend at the cashier bay on the Autostrade in a Tesla, I suspect he would not have let you off with the toll. He'd have double-charged you.
There are numerous studies that show EVs to be counterproductive, merely shifting pollution rather than reducing it much.
One report by the Ricardo Consultancy found that production of a petrol car involved emissions amounting to 5.6 tons of CO2, while for an EV 8.8 tons. Over its whole life cycle, an EV would still be responsible for 80% of the emissions of a petrol car. In the future, this gap may close in favour of petrol, as internal combustion engines become ever more efficient. [openx slug=inpost]
An alternative brewing in Taranaki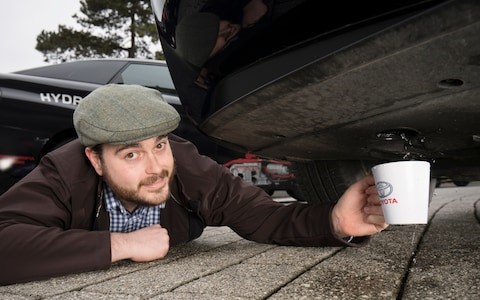 Hydrogen-powered fuel-cell electric vehicles (FCVs) have around double the range of even the more efficient battery EVs, like Tesla's Model S.
They match petrol cars. You can fill them up in a couple of minutes. And they do not need weighty batteries, making the technology suitable for heavy vehicles like trucks and buses — even aircraft and ferries.
Rather than storing electricity in batteries, FCVs provide the electrics on the go by combining hydrogen with oxygen (from the air).
London already fuels many of its double-decker buses using hydrogen. South Korea is replacing 26,000 natural-gas buses with hydrogen. And major makers like Toyota, Hyundai, and GM are producing hydrogen-powered electric vehicles.
So why are we seeing more EVs but few FCVs on our roads?
It comes down to the fuelling network. A chicken and egg thing. People are starting to buy EVs because charging stations are proliferating — although not widely enough outside of major cities.
Once the infrastructure builds and costs come down, people may embrace hydrogen. If the hydrogen itself is produced cleanly, it meets zero emission targets but maintains the range and fuelling time of petrol and diesel cars.
Toyota Australia has just announced a multi-million-dollar hydrogen filling station near Melbourne. Japan is targeting 900 stations and 800,000 FCVs by 2030. Yet most telling are developments in China, a country seeking to phase out fossil-fuel cars altogether. There the focus is moving from EVs to hydrogen FCVs.
Look at China's FCV goals:
| | | |
| --- | --- | --- |
| Year | HRS | FCV |
| 2020 | Over 100 stations | 5,000 FCVs in demonstration, among which 60% are FC commercial vehicles and 40% are FC passenger cars |
| 2025 | Over 300 stations | 50,000 FCVs in service, among which 10,000 units are FC commercial vehicles, and 40,000 units are FC passenger cars |
| 2030 | Over 1,000 stations, and 50+% hydrogen production from renewable resources | Over one million FCVs in service |
Source: FCV Technology Roadmap, Society of Automotive Engineers of China
One challenge with hydrogen — as with electricity — is producing it cleanly. Hydrogen is already produced in Taranaki via natural gas, and the province is rich in energy sector expertise. An opportunity for NZ is to produce even more hydrogen from renewable electricity and export it.
Hiringa Energy and its partners in New Plymouth have a $950,000 investment from the government to design generation facilities, storage containers, and up to three hydrogen refuelling stations.
Plans for a wider generation and refuelling network encompass the whole country: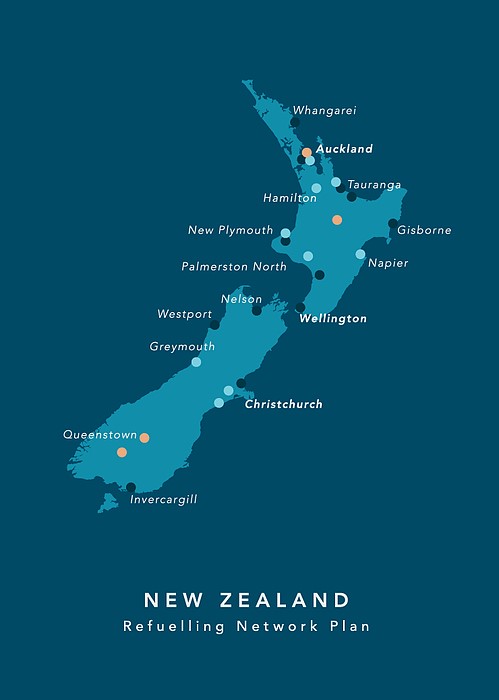 Meanwhile, potential investment in a clean hydrogen power plant in Taranaki by US company 8 Rivers could top $4 billion. The project appears still in the feasibility review stage. Should it go ahead, it'll be the biggest industrial development in New Zealand since Muldoon's 'Think Big' era.
FCVs the next wave?
There remains cost, production, and environmental questions with hydrogen FCV development, as there did when EVs first started to take off. FCVs are also more costly and less efficient than EVs. But the technology is improving all the time. The race is on.
One thing I do know as an investor — if you can solve the problems of a previous technology with a new one, you have a market leading advantage. Auto transmission, fuel injection, seat belts and airbags all transformed automobile performance and safety. If FCV technology and the infrastructure network reach the targets we're seeing in Asia, it could transform many of the existing EV constraints.
GM has a 'path to zero emissions' plan, lining up at least 20 electric vehicles by 2023. But it's not going head-to-head with Tesla. Some of these vehicles will be FCVs. And the company has the scale and experience to advance the cause.
In 2012, GM helped the US Army establish its first hydrogen fuel-cell EV fleet.
GM and Honda hold an industry leading ~2,200 fuel cell patents between them. They have announced a manufacturing joint venture to produce an advanced hydrogen fuel-cell system.
Right now, it doesn't look like EVs or FCVs are about to take over from petrol or diesel cars anytime soon. It's the future. And with EVs a less than ideal solution, we need other options.
At this point, I'm more willing to invest in businesses with the capability and desire to explore all the options, rather than aligning their stars to just one.
The road awaits…
Regards,
Simon Angelo
Analyst, Money Morning New Zealand
Important disclosures
Simon Angelo owns shares in General Motors Company [NYSE:GM] via share broker Vistafolio.