I was blasting down a French motorway in our Mercedes, kids in the back, when trouble hit.
As I came alongside a Renault towing a giant caravan, going far too fast, he started to lose control. The caravan swung into my lane.
I dodged, narrowly missing a brutal collision.
Then it swung into the median barrier with a terrible grinding noise and a shower of sparks.
I managed to slow and move into the shoulder, praying the caravan wouldn't roll or sheer off and take out the next car.
The Frenchman was unperturbed. With his caravan buckled and bent, he slowed a little to regain control, veered into the centre lane, then accelerated away again at high speed.
We exited and found a small sleepy French village. There was a bistro serving a three-course La Formule menu for €12 (about $20). It was €10 for the kids.
At lunchtime, the entire village seemed to converge on the restaurant. And we had a lunch of prawns, pork fillet, fresh salad, raspberries and crème brulee, with a carafe of wine for nicks. I commented on the great value to the waitress.
'It's important everyone in the village can enjoy a good lunch.'
We strolled down the main street. There were stone buildings with wooden doors and windows missing paint. Glancing in the window of the local Immobilier, I noticed several good-sized homes for sale on large plots from around €100,000 ($166,500). The nearby bank branch of Credit Agricole was offering mortgages from 1.55%.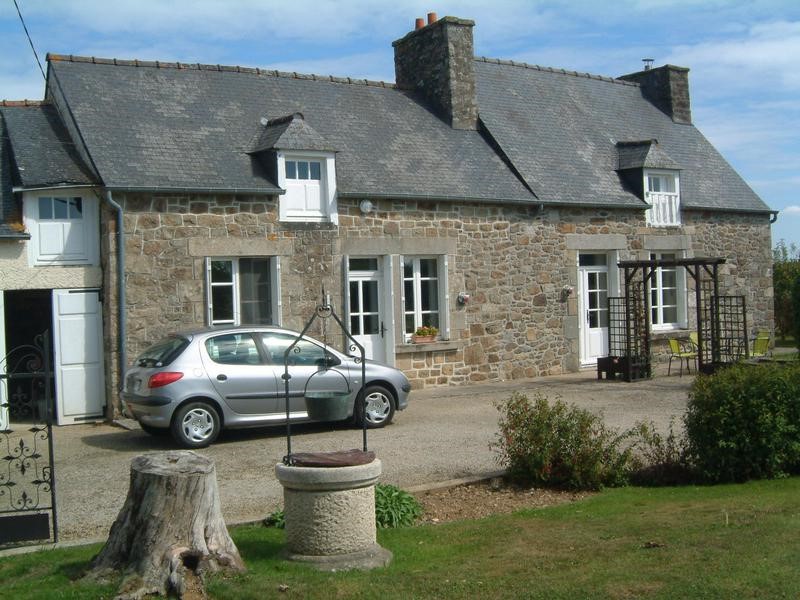 Typical village home for sale in Northern France. Source: frenchestateagents.com
And I started to think about our former life in Auckland and why it was so expensive.
As I write, first-home buyers are looking at a lower quartile entry price of $650,000 — even after recent price slides. For that, you won't get anything pretty in Auckland, let alone with much-prized volcanic soil around it.
Meanwhile, assuming you've somehow cobbled together a 20% deposit ($130k), your repayments sit at around $1,250 per fortnight, on the average two-year fixed loan at 4.79%.
But Auckland is where the jobs and opportunities are — not rural France!
To be fair, the village where I had lunch was only a 45-minute drive from Rennes, with a major university, automotive industry, Ikea store and population of about 720,000.
Unfortunately for first-home buyers, Auckland has been a global hotspot. It ranks as the third-best city for quality of living in Mercer's last global living survey.
It's also built on an isthmus. That gives it an island-like quality and limits space for growth — even as rapid growth persists. [openx slug=inpost]
Troubled waters ahead
I'm worried — like that drizzly day on the French motorway — that the caravan is about to come off.
Australian property markets, which we tend to follow, are rolling back fast in value. Banks are tightening up on credit and capital requirements because even they're worried about mortgage multiples.
Cheap money can't last forever. Interest rates are cyclical, and they always have been.
Right now, central banks are afraid to raise them because they know that property is in a bubble. They're working on raising them at glacial pace, hoping for a cushion.
But we have a world of rising prices.
Once global trade bumps get sorted out and the emerging market demand for logs, oil, iron ore, wine, dairy and more continues to grow, raising interest rates is one of the few tools available to cope with surging prices.
Suddenly, that first-home buyer comes off their two-year fixed at 4.79%. They will find that the rates are 7.95%, like when I bought my first home. Now they're up for nearly $1,800 a fortnight in repayments. And the value of the house drops 30% in the carnage (now worth only $460k) and they're in negative equity.
At least you'll be clear out of the way of Michael Cullen's Capital Gains Tax recommendation.
Time to drop off the keys to the bank and just move on?
Probably not. Auckland has some great demand drivers against restrained housing supply. But in the uncertain business of life, it pays to be smart.
And expensive mortgages are only smart if you can guarantee the sort of runaway capital gains like we've had in the past
So how can you kill your mortgage and have a life?
You don't have to live in Mission Bay.
A friend of mine runs a successful logistics business in Auckland. He's just employed a new CEO. The CEO commutes and works remotely from the Bay of Plenty. He enjoys an idyllic and more affordable lifestyle with his family — on an Auckland-sized salary.
He travels to Auckland and stays over for a few days. Then he works remotely from home.
Fibre internet is making remote work much more possible.
You don't have to pay the mortgage yourself.
Bring in some boarders or homestay students. Run the place on Airbnb whenever you're not there — and even when you are.
Minimise the borrowings and maximise the repayments.
Consider a revolving situation (if the deal is right) and cut back on the principal (which attracts the interest cost) whenever you can.
More importantly, increase your income.
You're probably working hard enough already. So, you need to increase your passive income — the part of your income that you don't work for.
We're dedicated to helping you do that at Money Morning NZ.
I like investing in dividend-paying stocks or growth-trend areas. Some of the current dividend rates exceed mortgage rates. So, if you invest smart, you can become financially independent sooner than you think.
There's one property trend that is, well, bucking the trend. And you can buy into that on the ASX.
Childcare remains a growing and resilient industry in Australia and New Zealand. To afford urban Australasian home prices and mortgages, let alone holidays, Mum and Dad need to go out to work. Plus, it feels good to have a career.
Charter Hall Education Trust [ASX:CQE] has been a strong deliverer for my portfolio. The company owns 387 Early Learning Properties in Australia and New Zealand. It doesn't run the centres but owns the land and buildings — often in prime suburban areas. Borrowings are only around 30% and weighted average leases run for 9.5 years.
Over the last year, the stock price has grown almost 15%, while dividend income (at purchase value) has been about 5.5% per annum.
I'm not sure it represents great value right now. But if more property carnage in Australia hits the share price, I'll be looking to top up when it meets my strike price.
So what's going to happen? Are mortgage rates eventually going to jump? Are we going to follow in deep with Australia's property gloom?
I don't know for sure. Nobody does.
But one thing is for sure — we can't keep going the way we are, where only one in four people under 40 are homeowners.
Alternatively, skip Auckland, put the money in a nice income portfolio and sip wine in rural France.
Regards,
Simon Angelo
Analyst, Money Morning New Zealand
Important disclosures
Simon Angelo owns shares in Charter Hall Education Trust [ASX:CQE] (via wealth manager Vistafolio).